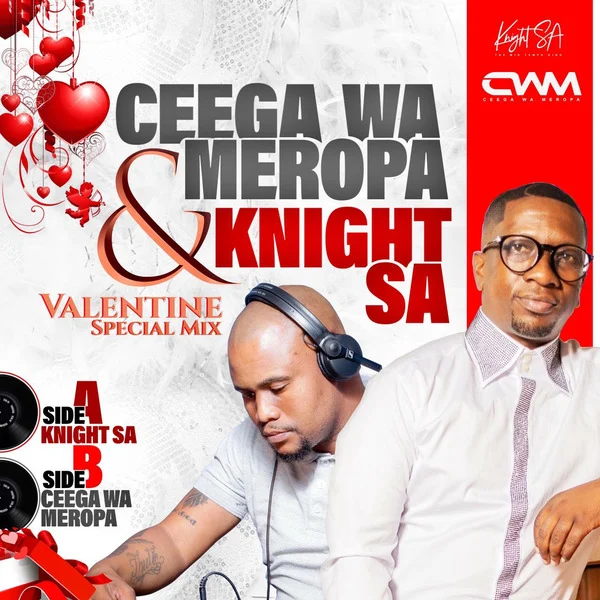 Ceega Wa Meropa x Knight SA – Valentine Special Mix Mp3 Download.
The two House Music Mix Heavyweights linked up to make our valentine's day truly special with this Special Mix from Ceega Wa Meropa and Knight SA.
The mix comes in a two-part compilation with Knight SA on Side A and Ceega Wa Meropa rounding things up on Side B.
Check out the playlists below.
SIDE A
DarknessReighn – Falling (Original Mix)
TT Master Terrezah & Mr Lenzo ft Kamo M – K O N K A (Remake)
Adhesive Twins & Supreme ZA feat Trevor Mako – All Is Well (Soulful Twilight Mix)
Alicia Keys – Feeling You, Feeling Me (Kek'star's Remix)
Kaylow – Umdali
Initiation
Quincy Jones Feat. Barry White, Al B. Sure, James Ingram, El Debarge – The Secret Garden (Kek'star's Mix)
Every Moment (Jwk Deep Kaynourous Touch)
Open Your Eyes (Vocal Mix)
Imizamo Yami
Usuku Lwethu
Pistoli – Be You (Revist)
Supreme ZA – Eden of Dreams (Soulfire mix)
Yogilocco & Knight SA – My Saxophone (Original Mix)
SIDE B
French August – All My Heart (Original Mix)
Gaba Canna ft Russel Zuma, George Lesley – Healer Ntliziyo Yam (Mr Roland Magoo'e Rejoice Remix)
Kuhle Mashobani ft Major Brothers – Usuku Lwethu (Original Mix)
Dj Stax ft Pexie L – Khanya (Main Mix)
Ladi Audiosoul & Vhuvii ft Decency – Ungowami (Original Mix)
Unknown Artist – Unknown Track
Laps Rsa & BlaQ Afro Kay ft EleXx 014 – Mphethe Ka Love (Original Mix)
Lapie & Czwe De Ritual ft Colbert – When You Gone (Beat Soul Touch)
Eric Faria – Can't Get Enough Of Your Love Baby (LnSoul Make Up)
Mr Carnival ft Thandiwe Angel – Dali Nguwe (Original Mix)
Mayor P Art ft Prince Cuemza & LnSoul – Last Night (Main Mix)
MikaySA & Dani3lle – Can You Handle This (Original Mix)
House Victimz & LebtoniQ ft Elle B – For Loving You (Original Mix)
MikaySA & Dani3lle – Take Control (Original Mix)
Forensics Of House ft Phume K – For Me (Original Mix)
Kem – I Can't Stop Loving You (Trust SA's Touch)
The Layabouts ft Shea Soul – Perfectly (Nastic Groove Space Cruise)
We are sorry that this post was not useful for you!
Let us improve this post!
Tell us how we can improve this post?