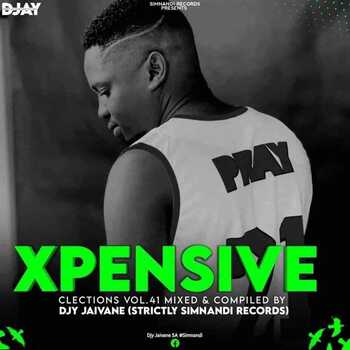 Strictly Simnandi Records: DJ Jaivane – XpensiveClections Vol 41 Mix Mp3 Download.
It's finally here! DJ Jaivane's most anticipated work so far this year. Since he teased it, the Amapiano movement has been eagerly waiting for the official drop of the 41st edition of Simnandi Records' best series ever. DJ Jaivane came has dropped off XpensiveClections Vol 41 Mix and it's tagged "Strictly Simnandi Records".
XpensiveClections Vol 41 Mix has a run-time of over two hours and yet it is such a beautiful compilation that there is not a single moment that will bore you. One of the most amazing things about Jaivane's mixes is it's exclusivity. These are songs that you have never heard before and they are all produced within Simnandi Records where you can be assured of quality productions. We have songs from ATK MusiQ, Muziqal Tone, T-Man Xpress and DJ Jaivane himself.
DJY Jaivane began the year in splendid fashion with the Welcoming 2021 Mixtape which featured some of Simnandi Record's locked tunes at the time. A month later he surprised fans by releasing the mixtape and it's tracks as an album on Apple Music and other streaming platforms. Jaivane plasn to do the same with "XpensiveClections Vol 41 Mix".
This mixtape is a mine for exclusive locked tunes. Download and enjoy below. iPhone users can expect the mixtape to be out on iTunes and Apple Music tomorrow Friday 9th April.
We are sorry that this post was not useful for you!
Let us improve this post!
Tell us how we can improve this post?