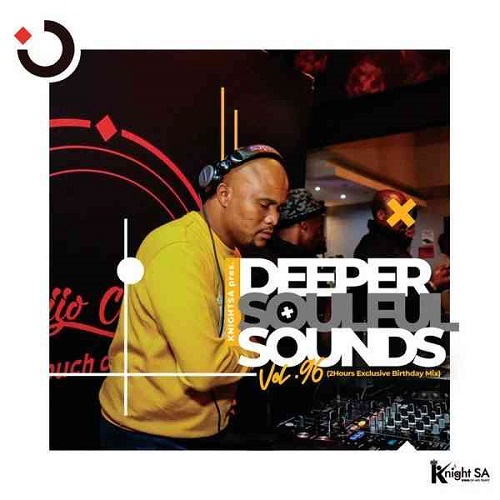 KnightSA89 – Deeper Soulful Sounds Vol.96 (Exclusive Birthday Offering) MP3 Download
Ladies and gentlemen, here comes another mind-blowing mixtape from your ever Amapiano artiste, KnightSA89. If you have been following this high skilled artiste, you would have noticed that he has so much to deliver in his weekly musical ritual, Deeper Soulful Sounds. Last week he fed the ears of his fan with his "​DSS Guest Mix" where he presented himself as an oracle in the world of music.
Today he dropped another spanking and rhythmic episode which he termed "Deeper Soulful Sounds Vol.96 (Exclusive Birthday Offering)" This is the best to groove ands this episode is loaded with tracks that will keep you glued to you playlists. Check out the song below and download for free.
Tracklists:
01. Lira – Hamba (Deep Sen x KingTalkzin x Knight SA Future Mix)
02. Phill SA-Dangerous (Authentic Mix)
03. Mega Bt f.t Mogomotsi Chosen & LebtoniQ – Tseb'tsebe [OriginalMix]
04. Adhesive Twins feat Fako – Love In The Air (Soulful Twilight Mix)
05. Lwandle (Xiluva) (Bee-Bar Just bee U mix)
06. Elementicsoul Feat Nathi & Afro Que – Muhle (Original Mix)
07. Beat Soul ft. Mosh – My Love (Original Mix)
08. Lindiwe – Falling In Love (Original Mix)
09. Knight SA Ft Mogomotsi Chosen – New Day
10. Tunnel Vision (Original Mix)
11. Oskido ft. Thandiswa Mazwai & Ntsika Ngxanga – Ayazizela (Rework)
12. Mega Bt & Sti T's Soul Ft Sfundo – Hamba [Original Mix]
13. Room 806 feat. Bukeka Sam – Uzobuyel'kum (Comfort'Deep & Knight SA Deep Motiv Remix)
14. Dj Couza ft Bikie – Liphelile (Original Mix)
15. V-Tone – Butterflies
16. YNESA – MEADOW
17. Roctonic SA – Empire (Original mix)
18. Bongeziwe Mabandla – Ndanele (Chronical Deep Claps Back Mix)
19. MusiQ Monks – Waited for (Directions)
Download below
We are sorry that this post was not useful for you!
Let us improve this post!
Tell us how we can improve this post?