Updated: November 14, 2023 — 10:20 am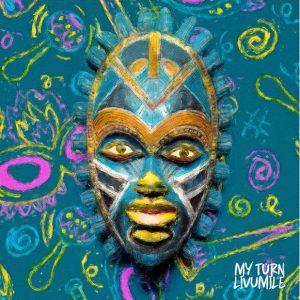 DJ Jaivane – Livumile My Turn Album Zip Download
DJ Jaivane – Livumile My Turn Album. DJ Jaivane, Mr Simnandi himself comes through with his latest project, the album "Livumile (My Turn)." This album has been a long time coming and the producer/dj has been teasing it for a while now.
DJ Jaivane's latest offering, "My Turn (Livumile)," is a vibrant and multifaceted album that seamlessly blends various elements of Amapiano and House music. The collaboration with a talented lineup of artists brings a fresh and dynamic energy to each track. From soulful melodies to energetic beats, this album caters to a wide spectrum of musical preferences within the Amapiano and House genres. We explore the tracklist, highlighting the standout features of each track:
1. Khumbula (feat. Bittersoul, Tots SA & Mzala Wesive):
"Khumbula" sets the tone with its infectious rhythm and soulful collaboration. Bittersoul, Tots SA, and Mzala Wesive add layers of emotion and depth to this opening track.
2. Mdali (feat. Smaki 08 & Ratex):
"Mdali" is a lively track featuring Smaki 08 and Ratex, showcasing a fusion of energetic beats and captivating vocals. The synergy between the artists creates an uplifting listening experience.
3. Ubambo Lwami (feat. Bittersoul & Mzala Wesive):
With "Ubambo Lwami," DJ Jaivane crafts a melodic journey. Bittersoul and Mzala Wesive contribute to the soul-stirring atmosphere of the track.
4. Ngyazifela (feat. Smaki 08, Sasshia, Skinny Que & Dawg):
This collaborative effort brings together Smaki 08, Sasshia, Skinny Que, and Dawg in a dynamic fusion of vocals and beats. "Ngyazifela" is a standout track with its catchy hooks and layered composition.
5. Livumile (feat. Smaki 08 & Sasshia):
The title track, "Livumile," is a testament to DJ Jaivane's production prowess. Smaki 08 and Sasshia complement each other, creating an anthemic feel to the song.
6. Spiritual (feat. Ben Da Prince):
"Spiritual" introduces a more contemplative mood, featuring Ben Da Prince. The track showcases a seamless blend of spirituality and musical innovation.
7. Dreams (feat. Ben Da Prince):
"Dreams" continues the collaboration with Ben Da Prince, offering a dreamy and immersive sonic experience. The production intricacies elevate the emotional resonance of the track.
8. Istayela (feat. Ben Da Prince):
"Istayela" maintains a balance between rhythmic beats and melodic richness. Ben Da Prince's contribution adds a layer of sophistication to the composition.
9. Finished Product (feat. Ben Da Prince):
In "Finished Product," the synergy between DJ Jaivane and Ben Da Prince is evident. The track feels polished and complete, showcasing the artists' collective creative vision.
10. Amapholas (feat. Bittersoul, Dr Thulz & Kiddyondebeat):
"Amapholas" introduces a fusion of artists, including Bittersoul, Dr Thulz, and Kiddyondebeat. The collaboration results in a track that is both dynamic and sonically rich.
11. Skoloto (feat. Ben Da Prince):
"Skoloto" takes a rhythmic turn with Ben Da Prince's distinctive touch. The track stands out with its infectious energy and dance-worthy beats.
12. Tshwaleni (feat. Bittersoul & Dr Thulz):
"Tshwaleni" explores a more laid-back vibe, with Bittersoul and Dr Thulz contributing to the track's smooth and soulful atmosphere.
13. The Whistle Man (feat. Dr Thulz, Bittersoul & Kiddyondebeat):
"The Whistle Man" infuses a playful element with whistle sounds and rhythmic beats. Dr Thulz, Bittersoul, and Kiddyondebeat contribute to the track's lively composition.
14. Ulala Kanjani (feat. LeeMckrazy & Skandisoul):
"Ulala Kanjani" showcases DJ Jaivane's versatility, with LeeMckrazy and Skandisoul adding their unique flavors. The result is a track that exudes energy and charisma.
15. Khumbul'Ekhaya (feat. Ben Da Prince, Smaki 08 & Sasshia):
"Khumbul'Ekhaya" brings a sense of nostalgia, blending Ben Da Prince, Smaki 08, and Sasshia's vocals in a heartfelt composition.
16. Gida (feat. Bittersoul & Tots SA):
Closing the album, "Gida" features Bittersoul and Tots SA in a vibrant and rhythmic finale. The track leaves a lasting impression, ensuring that the album concludes on a high note.
Find more Amapiano Songs on Amapiano Updates .
We are excited to get new music from our favorite African artistes. Amapiano Updates shares the newest and trending Amapiano and House ZA Music, Tubidy Songs, Mp3 Skull, Mp3 Juice.
Today, we have a song which you will want added to your playlist, and it surely comes from one of our beloved African artist. has been in the music scene for quite a time.
Fans and music lovers can now listen and stream the song from the artiste and share your experience or rate the song via the comment section below.
You can also follow Amapiano Updates and our Amapiano playlist to stay up to date with newest releases. Also subscribe to our YouTube Channel, Facebook Page, Spotify, or SoundCloud Channels.