Updated: November 14, 2023 — 10:20 am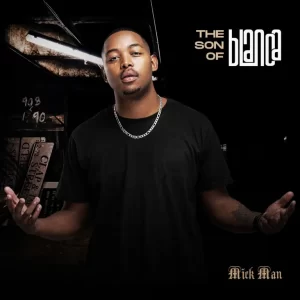 Mick Man – The Son Of Blanca Album Download
Year after year, Mick Man delivers the goods at this time and it is always a delight to listen to his productions. Exactly one year after he dropped Trust Your Dopeness, Mick Man has come through with another studio album, "The Son Of Blanca."
Mick Man's album, "The Son of Blanca," is a captivating musical journey that seamlessly blends various elements of House and Amapiano, showcasing the artist's versatility and collaborative prowess. The album features an impressive lineup of big producers and vocalists including Kelvin Momo, Mkeyx, Zar Keys, Lazuki, Dinky Kunenem Oscar Mbo, Vocal KAT, Malumnator, Eemoh, Mathandos, Sino Msolo, Saxy G and many others, each contributing to the distinct flavor of the tracks. Let's explore the tracklist to uncover the highlights of this musical masterpiece.
The Son of Blanca Tracklist
"The Son Of Blanca" (feat. Daano, Lazuki, Saxy G & Joeleene):
The album kicks off with a dynamic and high-energy track, setting the tone for the musical exploration ahead. The collaborative effort of Daano, Lazuki, Saxy G, and Joeleene adds layers of excitement to the opening.
"Bekezela" (feat. Dinky Kunene):
"Bekezela" slows down the tempo, introducing a soulful and melodic vibe. Dinky Kunene's vocals blend seamlessly with Mick Man's production, creating a poignant and emotionally rich experience.
"Sunday Song" (with Kelvin Momo):
The collaboration with Kelvin Momo brings a delightful synergy of their production styles. "Sunday Song" is an uplifting and rhythmic track that captures the essence of a laid-back Sunday afternoon.
"Ntombi" (feat. Sino Msolo):
Sino Msolo's vocals shine in "Ntombi," a track that explores the theme of love and admiration. The combination of Mick Man's beats and Sino Msolo's soulful voice creates a beautiful sonic landscape.
"Amaphupho" (feat. Mkeyz & Zar Keys):
The fusion of Mkeyz and Zar Keys on "Amaphupho" introduces a dreamy and atmospheric quality. The collaboration results in a track that is both introspective and dance-worthy.
"Umlayezo" (feat. MalumNator & Vocal KAT):
"Umlayezo" brings a unique blend of vocals by MalumNator and Vocal KAT, adding an element of unpredictability to the album. The track's rhythm and melody create an immersive listening experience.
"Blue Moon" (feat. Oscar Mbo & Zar Keys):
Oscar Mbo's collaboration on "Blue Moon" adds a touch of sophistication. The track explores a more nuanced sound, with Zar Keys complementing the atmospheric vibe.
"AmaThemba" (feat. Cnethemba Gonelo & Dr Thulz):
"AmaThemba" is an optimistic and uplifting track, featuring Cnethemba Gonelo and Dr Thulz. The combination of vocals and beats creates an anthemic quality that is both motivational and infectious.
"Inhliziyo" (feat. Dinky Kunene):
Dinky Kunene returns in "Inhliziyo," delivering another soul-stirring performance. The track explores themes of love and heartache with a poignant melody.
"Aba Yellow" (feat. Eemoh):
Mick Man collaborates with Eemoh in "Aba Yellow," infusing a vibrant energy into the album. The track's lively beats make it a standout, perfect for the dance floor.
"Amasiko" (with Oscar Mbo):
The collaboration with Oscar Mbo on "Amasiko" brings a rich, textured sound. The track explores cultural nuances while maintaining a contemporary and danceable vibe.
"Dopeness 2.0" (with Kelvin Momo):
"Dopeness 2.0" marks another collaboration with Kelvin Momo, showcasing the duo's creative synergy. The track is an exploration of sonic intricacies and rhythmic complexity.
"Oliva Tambo" (feat. Mkeyz):
"Oliva Tambo" introduces a mellow and contemplative atmosphere. Mkeyz's contribution enhances the track's emotional depth, creating a melodic masterpiece.
"Sucasa" (feat. Mathandos):
"Sucasa" brings a fusion of Amapiano and Afro House elements, creating a track that is both dynamic and infectious. Mathandos' vocals add a layer of authenticity to the overall sound.
"Boyz Holiday" (feat. TribeSoul):
The album concludes on a high note with "Boyz Holiday," featuring TribeSoul. The track is a celebration of life, friendship, and the joy of music, making it a fitting end to the musical journey of "The Son of Blanca."
Find more Mick Man Amapiano Songs on Amapiano Updates. Find the top 2023 Amapiano songs and albums, Top Tracks and Playlists, and Upload songs for free.
Download "Mick Man – The Son Of Blanca Album Zip Download" for free. Stay tuned for more songs, videos, albums, mixes, and lyrics this year.
Find more Amapiano Songs on Amapiano Updates .
We are excited to get new music from our favorite African artistes. Amapiano Updates shares the newest and trending Amapiano and House ZA Music, Tubidy Songs, Mp3 Skull, Mp3 Juice.
Today, we have a song which you will want added to your playlist, and it surely comes from one of our beloved African artist. has been in the music scene for quite a time.
Fans and music lovers can now listen and stream the song from the artiste and share your experience or rate the song via the comment section below.
You can also follow Amapiano Updates and our Amapiano playlist to stay up to date with newest releases. Also subscribe to our YouTube Channel, Facebook Page, Spotify, or SoundCloud Channels.